It's one thing to ride a bright red ride-on mower along the Hume Highway from Melbourne to Sydney – it's another to do it when you're raising funds for a condition you have yourself. But that's the case for mother of three, Megan Healey, who has multiple sclerosis (MS).
Megan's epic journey gets underway on Monday and will cover for than 1,040 kilometres in 16 days. Along the way, Megan will stop in 25 towns to complete the ride on World MS Day on 29th May.
Megan has had MS for 15 years and says she wants to raise funds to assist families living with MS.
"It's a horrible disease and we need a cure, as well as services for people with MS so they can stay in their own homes when times get tough and also, take the hard work away from family members," Megan said.
"I know first-hand how hard this can be and I want my family and others impacted by MS to not just get by in life but to enjoy it along the way."
Megan says there are also some personal reasons she is taking on the challenge.
"I've always been active and used to love playing tennis and riding horses but MS has forced me to come to terms with the fact that I now need other people's help to do things," Megan said.
"That's not who I used to be and that's not the message I want to send to others. I want to go out and do something my children will remember me by – as someone who got out there and did something great and made a difference."
Megan's Mowdown will also help educate and mentor young carers about caring for family members with a disability. Megan's children, Sydney 12, Leilani 10 and Finlay 7 are registered young carers and Megan will share how MS has affected their lives in a series of school visits along the route.
Chief Executive of MS Research Australia (MSRA) Jeremy Wright said Megan's iconic campaign is a testament to her bravery and strength as well as her commitment to her family.
"Megan is a truly inspirational person and this campaign will no doubt strike a chord with and touch so many people along the way," he said.
"I'd encourage anyone in the MS community or living along the route to get out and support Megan and to help us all mow down this disease in May."
Megan's Itinerary
13th May: Melbourne, Epping, Wandong, Kilmore
14th May: Kilmore, Sugar Loaf Creek, Seymour, Euroa
15th May: Euroa, Violet Town, Baddaginnie, Benalla
16th May: Benalla, Winton, Glenrowan, Wangaratta
17th May: Wangaratta, Chiltern, Barnawatha, Wodonga
18th & 19th May: Wodonga
20th May: Wodonga, Thurgoona, The Rock, Wagga Wagga
21st May: Wagga Wagga, Junee, Cootamundra, Yass
22nd May: Yass, ACT border, Belconnen (Canberra)
23rd May: Parliament House, Canberra
24th – 26th May: Canberra
27th May: Canberra, Goulburn, Berrima, Bowral
28th May: Bowral
29th May: Bowral, Mittagong, Westmead Millenium Institute, Sydney
Megan has received some generous support to help make her trip a reality from Briggs & Stratton (the mower), Best Western (accommodation) and Rotary.
Donations to the Kiss Goodbye to MS campaign can be made online here.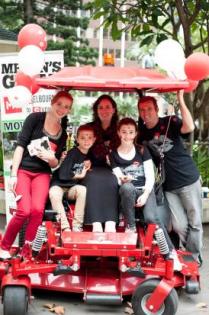 Megan getting ready for Megan's Mowdown, pictured with her husband and children.