Do you have guests coming to stay? The annual visit from the in-laws, or a long lost cousin? Or maybe a friend you see every five years?
The thought of preparing our homes for guests can evoke fear and dread in the best of us. While it's always lovely to see someone you haven't seen for a while or who have an important role in your family's life – it's usually also nice when they go too! And getting your home ready for guests can be time and money-consuming, but little things can make a big difference.
We asked homeware stylists Betty Wong and Lucy Wolstenholme from MyHouse, for some tips on how to get your home ready for guests with the least stress and the least cost this festive season.
1. 5-star comfort

The special touches of luxurious comfort within the home never go unnoticed and ensuring that your guests are equipped with all of the essentials, along with a few extra comforts, will not only illustrate thoughtfulness but make them feel especially welcome.
Even if your budget doesn't allow for mimicking a 5-star hotel, wonderfully clean bed linens, a choice of pillows donned with freshly ironed pillow cases and a full set of delightfully soft, quality bath towels will all ensure that your guests experience is a far more comfortable one.
And while it's important to de-clutter (get rid of anything that you wouldn't find in a fine hotel), don't forget to stock up on all essentials such as soaps and shower gels, hand-towels and toilet paper rolls. It's also nice to have a few small items that people find useful but don't necessarily carry with them – such as some hand & body lotion, a spare toothbrush and toothpaste in case they're forgotten, a shower cap and a hair dryer.
Ensuring that all items are easy to access and nicely presented can go a surprisingly long way in creating that 'luxury getaway' experience.
2. Mother nature's artwork

Nothing breathes fresh air into a space like a touch of nature. By adding the simple, feminine beauty of natural pieces to your home you can instantly make the space appear more open and inviting.
The beauty of nature in the home is that it works best when kept simple – avoid décor such as over style floral displays on mass and instead look to more simple items that draw inspiration from rustic and natural settings. You would be surprised how effective this method is for creating an environment that is pleasant, welcoming and cozy.
3. Remember: smell to sell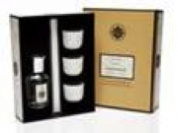 If you've looked at houses for sale, you'll know that a common trick of the home-seller is to use the power of scents such as freshly baked cookies, coffee or cinnamon, to 'warm up' potential buyers by making them feel immediately at home in their home. This is often referred to as the "smell to sell" method.
Similarly, the use of scent is a great technique for helping guests to feel contented and relaxed in your home as soon as they step in the door.
Smells that appeal to the senses can effectively shift our mood. Using scent to create an inviting and uplifting space in the home can do wonders for evoking in your guests a sense of true comfort.
4. Let there be light

Similar to scent, lighting can have a powerful effect on human psychology and guests entering your home will be impacted in an emotional sense by the level and tone of light.
It's the key element in setting the mood and atmosphere of a room and many underestimate the power of light to make or break an interior scheme all together. It should be warm, cosy and cheerful.
Cold or blue hues will effectively create a space that is severe or stark, while bulbs with a warm of soft glow can instantaneously add ambiance and texture.