"When we turned up on the roof that first day, it really was the first time we had seen any of the other contestants," says Katrina 'Trixie' Johnson who, with her husband of 13 years Mark (known as 'Johnno'), has the apartment at the top of The Block Sky High on the Nine Network.
"I looked around for a kindred soul and realised we were the oldest."
She laughs her trademark dolphin laugh.
"But not only that, we were also the only couple not 20-something. I think it's the first time that's happened to me," she says.
Trixie (a name from the show's producers), from Brisbane, is the youngest of three sisters and is also a relatively young mum of 37 to Eamon 12, Ella 10 and Kelly 8.
It is because of their three children that Trixie and Johnno tried their hand at the show.
After renovating their dream Queenslander home near Ipswich when pregnant with Kelly, the couple sold the house to help finance support and treatment when he was diagnosed with high-level autism spectrum disorder. At the same time, Johnno left his work as a sign-writer and started as an apprentice electrician with Energex, an apprenticeship he only finished last year. They have been renting ever since.
"It wasn't a difficult decision [to sell] at all," explains Trixie, "but it was heart-wrenching to leave the gorgeous house we had completely rebuilt and remodelled."
She says the decision has more than paid off because Kelly is now thriving at a suburban mainstream primary school where his fellow students include his older siblings and primary school age cousins who all live nearby.
Trixie says she entered The Block because she saw it as an opportunity to get the kick-start they needed to be home owners again.
"Johnno and I know what's involved in renovating, and we're not afraid of hard work. He's good with his hands and has great attention to detail, and I've got artistic flair, so we were the right mix for the show."
She says that she's nearing the end of the experience with mixed feelings.
"Some days I've loved. It's been a great experience. We've had amazing fun with the tradesmen who worked with us and with the crew. I've learned an awful lot about what goes into making a TV show."
But?
She pauses for a moment and thinks carefully about her words.
"Some days it's been really tough. There's two aspects to it.
"Johnno and I expected that we would get more of an opportunity to show our artistic skills but we soon learned that our style didn't suit the judges.
"And I think social media is brutal. I just wasn't prepared for how nasty people are. I don't read it, but I know my family does – my mum, dad and sisters – as well as my friends. They say to me 'don't look at this or that' but I tell them not to worry, as I just don't look."
She says Johnno does, and has ignored people who make comments about anything and everything from their children, her laugh, her voice, her outfits and their room reveals.
"He did respond to two people just to correct some facts they had wrong, and one of them completely changed their mind – so that was good. But that's the only time he's responded. It's water off a duck's back to him."
She says, by way of contrast, the personal reaction has been wonderful.
"People couldn't be lovelier. They come up to us at the airport, in coffee shops, in the street. The kids at school want their photo taken with us.
"It's really nice. People are very friendly. I know this will only last as long as the show lasts, and I won't be sorry for this side of things to end as I'm not really an 'out there' type of person."
Trixie says being on the show has also helped her think about what she wants to do next.
"I've effectively spent the last 12 years with the kids, and I've put a lot of time into Kelly. Now that he's doing well at mainstream school, I need to think about what I'm going to do."
She says she is interested in exploring opportunities to make things.
"I'm interested in making and creating art pieces and furniture. I don't mean mass numbers of things, but one-off pieces that people want for a particular space. It might be a beautiful table – like the one Johnno made for the terrace – or a textural wall piece or something that's just different and special."
While work on The Block is complete, the contestants have other commitments for the Nine Network until auction day on 27th July, as well as to the program's sponsors.
Trixie says she and Johnno are looking forward to the Mitre 10 road trips that start next week around country Queensland.
"We've been told that almost the entire town will turn up in some of the places we're going to, and we're really looking forward to it."
She says she's nervous but also hopeful about the all-important auction day.
"We're so happy with the agent and the agency – Kendall Bares from Hocking Stuart in Melbourne. They've done The Block before and Kendall keeps reminding us that people don't buy a place for the furniture in the room.
"What's important is the architectural styling, the quality of the finishes and the intangible 'feel' of the place when people are buying real estate.
"People walk into the apartment and say 'wow, this is even better than I thought' and that's really gratifying.
"We know we've done very well in the areas that count – everyone says so. Our attention to detail is second to none."
Trixie says 'winning' a weekly room is a little like preparing for an exam at school.
"What do you need to do to pass an exam – or win a room with these judges? If you can hit the mark within the available budget, that's fine, but Johnno and I have always been focussed on getting it right for the people who are going to buy the apartment.
"We have worked hard to deliver something we'd be happy to live in ourselves. It's also where we put the money allocated to us.
"We know the quality of the workmanship is first class. We know the apartment is practical and comfortable to live in. And we know it strikes the right balance between being a tasteful and chic showpiece in a fantastic location - as well as a lovely place to come home to."
* * *
Some of Trixie and Johnno's workmanship and style.
A beautifully-styled functional kitchen
Living room which leads to a large and luxurious indoor-outdoor dining area and terrace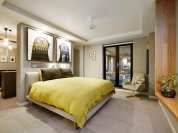 Master bedroom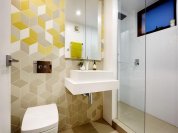 Ensuite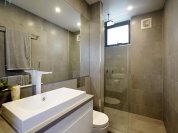 Another ensuite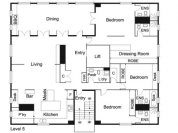 Floorplan - all apartments have the same basic floorplan