First impressions are lasting impressions and a warm smile has been proven to be the best way to make a huge impact. 99.7% of people believe that your smile is a social asset as it makes you more friendly and approachable 1 . Flashing your pearly whites can also make all the difference with your professional life, as a survey has shown that having an unattractive smile will hurt the chances of career success by 75% 2 .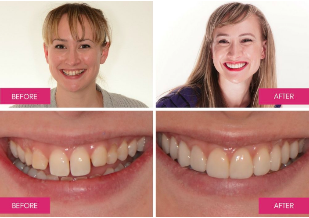 However, many people choose not to correct an imperfect smile because they believe the process will be too costly or painful. Leading cosmetic Melbourne dentist and co-founder of Dental Boutique, Dr Reuben Sim has debunked the most common myths about cosmetic dentistry.
Myth 1. Cost – Cosmetic dentistry is too expensive and I can't afford it. "Cosmetic dentistry is not as expensive as many people think, with the modern technology giving us more options than ever to correct all our dental defects and concerns. The range of options includes teeth whitening, veneers, invisible braces, dental bonding, dental implants and All-on-4. At Dental Boutique, payment plans for cosmetic dentistry treatments start from $50 a week, depending on individual conditions, budget or requirements. Our mouth is a constantly degenerating environment and delaying dental defects and problems such as chipped, discoloured, irregular shaped and missing teeth, can lead to more devastating effects in the mouth and general health. This means the overall cost of fixing the problems will be more expensive later on. In some cases, cosmetic dentistry can significantly boost your self-esteem, and can be a long term investment to your health, professional and social life."
Myth 2. Effort – Cosmetic dentistry is too confusing and I don't know where and how to start. "When it comes to cosmetic dentistry, people want to do research to ensure they are doing the right thing but usually people don't have enough knowledge to find out what works best for them in their specific situation. Dental Boutique employs a simple three steps process, allowing us to design, trial and transform smiles predictably. The initial consultation includes discussing your dental problems, concerns, goals and desires. Photos of your current smile is taken and the dentist will evaluate and design your smile with you based on your aspirations, facial shape, colour and personal characteristics. The main purpose of the session is to gain clarity of your aesthetic concerns, explore all available treatment options and get a ballpark figure of the cost of the smile makeover. Once a treatment has been decided, a 'Smile Trial Design Session' is conducted allowing patients to preview and trial their new smile even before starting treatment. A smile makeover can be completed in as few as two visits. It's important to go to a cosmetic dental practice that will spend time to educate you about the range of options available, show you before and after photos similar to the problems you have, without pressuring you into making a decision you are not comfortable with."
Myth 3. Cosmetic dentistry doesn't last - I don't think it will be worth the effort as it won't last for a long time. "Many people avoid cosmetic dentistry as they have assume that cosmetic dentistry does not last or the dental work may fail only after a short time. There is also an increase in reported cases of cheap overseas cosmetic dentistry gone wrong. Outstanding cosmetic work involves talent, artistry and experience of the cosmetic dentist, dental ceramist and the team. If the treatment is done correctly, it will last for many years, even as long as your teeth last you. The reason some cosmetic dentistry fails is either due to poor treatment planning of the case, low quality of material or product used, lack of dentist's experience in cosmetic treatment, or poor oral hygiene and maintenance by the patient. Go to a cosmetic dentist that provides warranties for their cosmetic work. A cosmetic dentist who is confident in the quality of their work and materials will have no qualms about offering a warranty."
Myth 4. Judgement/embarrassment – I am afraid of what my new smile will look like, and what others will think. "Many of us has heard of someone who has had smile makeovers that look 'fake', or lack the natural colour, texture and translucency of real teeth. Many people worry that others will notice they had cosmetic work done, and may think they are vain or judge them for getting their teeth fixed, or concerned that their smile will look unnatural and that it won't suit their face. At Dental Boutique, most of our clients prefer to have smiles that look natural, and that would suit their face and personality. Therefore, it is important to be able to trial your smile, so you can communicate exactly what you want to the cosmetic dentist. Many of the patients who had smile makeover at Dental Boutique commented that once they've completed the cosmetic treatment, their family and friends are thrilled with their new look and some did not even notice that they had treatment done as they looked so natural. Cosmetic dentistry is an art as much as it is a science. Ensure your dentist has years of practice, an eye for detail and the 'art' of being able to create a smile that suits the your facial features. It's also important to examine some real case studies of the cosmetic dentist to ensure you like what you see before starting treatment."
Myth 5. Anxiety/fear of pain – I really want to improve my smile, but I am afraid it will be too painful. "Dental fear affects about one in five Australian adults, making it one of the most prevalent phobias in the country 3 . Many people avoid having cosmetic dentistry done, thinking that the procedure will be very painful and uncomfortable. This causes many people to avoid or delay their visit to the dentist until bigger problems such as pain and infection occur. There are many techniques that can be used to overcome dental fear and anxiety. One option is sleep dentistry which allows patients to receive dental treatment while they are 'asleep' under General Anaesthesia or IV sedation. Alternatively, anti-anxiety tablets gas inhalation can be used to reduce initial anxiety before treatment. There are also some relaxation techniques that you can use to overcome dental anxiety such as practising controlled breathing and establishing a fail safe signal with your dentist. People often get scared because they think cosmetic dentistry means hours spent in the dental chair. However, treatments can be completed in as little as one to two visits and can even be done while you are asleep."
Conclusion
"Studies have shown that smiling influences us to feel a sense of happiness. People who are conscious about their teeth makes them suppress or 'hide' their full smile, which contributes to them feeling less confident and not being able to express their positive emotions freely. A smile makeover can have many benefits, including more confidence and happiness in yourself. People's psychological outlook is changed and they are no longer embarrassed to smile or take photos and as a result, become more successful in their work and personal life. Smile makeovers also help people improve in their appetite and functionality of eating and chewing. It also reduces risk of disease and gives people motivation to maintain better oral hygiene."
For more information, visit www.dentalboutique.com.au.

References:
1 http://www.aacd.com/proxy/files/Publications%20and%20Resources/Whitening%20Survey_Aug12(1).pdf
2 http://www.aacd.com/proxy/files/Publications%20and%20Resources/Whitening%20Survey_Aug12(1).pdf
3 http://onlinelibrary.wiley.com/store/10.1111/j.1834-7819.2010.01256.x/asset/j.1834-7819.2010.01256.x.pdf?v=1&t=j3fmiyjt&s=966c2764adab357aed0019b8b394e2dc19677c19