Get set to shake it up this Christmas, as Smiggle lines up its best selection ever, making it easy to give (or receive) the perfect Christmas gift.
The clever clogs at Smiggle have once again dreamed up a fan-fave selection of goodies for all ages and tastes. With a sprinkle of fun, a dash of very useful, and a whole lot of creativity, Smiggle really is your one stop shop this festive season.
Not sure where to start? We have some suggestions to help make it (a little) easier; although with so much to choose from, it's not going to be that simple!
Drum roll please. The categories are…
Travelling About
Smiggle Duffle Bag RRP $84.95
Pack for adventures and travels with our brand new Duffle Bag. This duffle bag features one large roomy compartment, two external mesh pockets and two zipped compartments for easy organisation and maximum storage. Plus, it has a handy shoulder strap and padded carry straps for ease of handling.
Tis the season to be travelling and these are the accessories that won't let you down along the way. Make holiday memories that will last forever.
Park and Playground
Smiggle Poppies Double Decker Lunchbox With Strap RRP $39.95
Take lunchtime fun to the next level with our Popem Popit Poppies Lunchbox. Featuring a spacious square design with two tiers of space to separate snacks from lunch, plus a handy shoulder strap and drink bottle sleeve for on-the-go use. Stay entertained while snacking with the awesome Popem Popit Poppies front panel! Once you popem you just can't stop em! Play 'em again and again for endless hours of sensory exploration and fun, perfect for entertaining fidgety hands at school, sport, travel and more.
Out and about with Smiggle. These holidays you can take Smiggle with you wherever you go and keep the fun alive.
Let's Get Creative
Smiggle Carnival A5 Notebook RRP $32.95
Writing notes and drawing just became so much more fun with our Carnival A5 Notebook. This interactive notebook features a claw machine applique filled with six novelty eraser prizes that can be scooped out using the pencil topper! Plus, it comes with 80 lined pages and 80 blanked pages for endless creativity.
Getting creative has never been so easy. Pens, pencils, stationary, diaries, journals, workbooks. If there's something you need to get creative, it's right here!
Gifting
Smiggle Glitz Jewellery Box Case RRP $49.95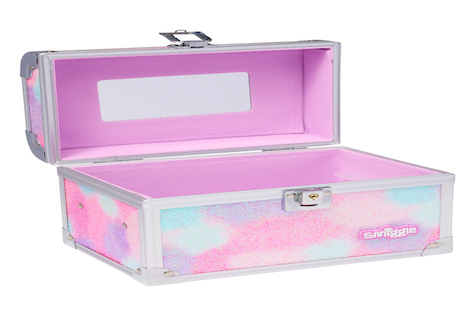 Glam up your dressing table with our totally fabulous Glitz Jewellery Box Case. This jewellery box features a super sparkly, iridescent glitter design and lined with velvet inside for a luxurious touch. Open the latch to reveal two tiers of space to store bracelets, rings, earrings and so much more. Plus, a glamorous mirror to help style your look. Perfect as a gift for every stylish Smiggler
Look no further for the best range of gifts this festive season. Something for everyone and every taste.
Toys
Smiggle Stunt Drone RRP $69.95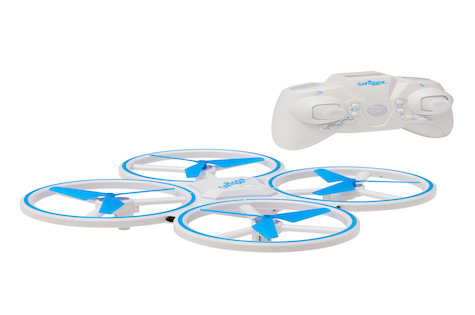 Hover, fly and do amazing tricks with our super cool Stunt Drone! This easy-to-use drone has a built-in auto hover, a one-key take-off and landing button and a light function for extra fun. Practise super awesome tricks such as spins and loop stunts and become a stunt drone master
The essence of Christmas. All the best toys are in store to make Christmas fun filled, joyous and happy occasion it is meant to be.
Treats for Everybody
Smiggle Lip Balm 3 Pack RRP $29.95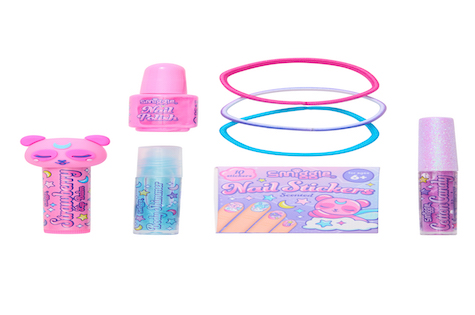 One for the school bag, one for the purse, one for the dressing table! Keep that smile shining bright on ayour travels with this convenient trio of LIp Balms. Comes with 3 cute character lip balms each with a unique flavour, choose from cotton candy, tutti frutti or vanilla! Plus,
comes with a fabulous glitter-filled shoulder pouch with adjustable straps!
Add a little extra flair to the hair, decorate some nifty nails, sparkle up a smile or soak in a bubble-filled bath, with this sweet-smelling collection for Every Body.
Stocking Stuffers
Smiggle Smile & Shine Hair Scrunchies RRP $9.95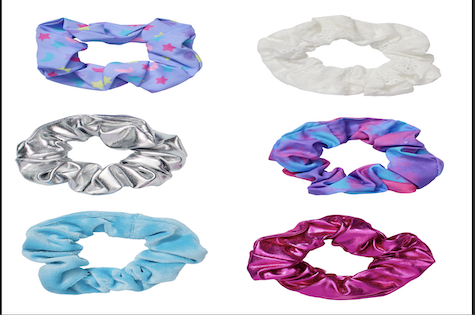 Keep hair tied up and stylish with our Smile & Shine Hair Scrunchies. This pack contains six scrunchies with different fabrics and finishes including velvet, shiny, tie-dye and more! Perfect for school, weekend fun and sports.
Last minute treats to fill up the most discerning stockings at the best prices.Kris Kringle, Christmas parties, Secret Santa, we have you covered.
As always, there is so much more to choose from in store and online. Smiggle is the perfect place to fill your home with Christmas cheer this year!
The Smiggle Christmas collection is available now at Smiggle stores nationally or online at http://www.smiggle.com, with lots of newness arriving all the time.
Smiggle's products are designed to inspire and develop creativity with original, fun and affordable stationery, accessories, gadgets and more.