A review of over 80 packaged baby and toddler snacks by CHOICE has found big name brands peddling excessive sugar, serving up 'health halos' and offering significantly smaller amounts of fruit and vegetables than you might expect from their product names.

"Whether it's in the product name or a claim on the label, the majority of the snacks we looked at reference fruit, vegetables, yoghurt and organic ingredients, creating a 'health halo' around products that often don't deserve it," says CHOICE Head of Media Tom Godfrey.

The Australian Dietary Guidelines recommend one-to-two-year-old babies eat half a standard serve of fruit and two-to-three serves of vegetables each day, and that we should all limit our intake of added sugars.

"With claims such as 'naturally sweetened with fruit ingredients' and ingredients lists boasting vegetables such as kale and pumpkin, parents could easily be fooled into thinking these snacks are healthier than they actually are," says Mr Godfrey.

"A common practice is to sweeten products with fruit juice concentrate, an ingredient that sounds positively healthy but is simply a form of added sugar.

"Many baby snacks are also highly processed, containing little more than refined carbohydrates, which can be problematic for developing teeth," Mr Godfrey says.

Some product examples demonstrating these tricks of the trade include:
Rafferty's Garden Yoghurt Buttons (Mixed Berry) are 93.5% yoghurt, but sugar is the third ingredient in this yoghurt, resulting in a product that's more than 60% sugar.
Heinz Little Kids Fruit & Chia Shredz claims to be "naturally sweetened with fruit ingredients" but the product is 35% apple juice concentrate, with a small 18g serve containing the equivalent of more than three teaspoons of sugar.
Heinz Little Kids Wholegrain Cereal Bars Apple & Blueberry and Rafferty's Garden Fruit Snack Bar Apple have more than 40% total sugars.
Kiddylicious Apple Fruit Wriggles claim to be 'made with real fruit', but the ingredients list reveals the bulk of the 'real' fruit is fruit juice concentrate and at $1.80 for a 12g pack ($150 per kilo), it costs a lot more than an 80c supermarket apple ($4.50 per kilo).
The vegetable content of Baby Mum-Mum First Rice Rusks Vegetable includes kale, carrot, cabbage and spinach, but combined they make up less than 1.5% of the product.
"While the occasional packaged snack is unlikely to hurt your baby, for the most part these products are unnecessary and a waste of money," Mr Godfrey says.

When choosing packaged baby snacks:
Read the ingredients list first – ingredients are listed in order of most to least.
Aim for products with a small ingredients list consisting of whole foods and no added sugars and salt, particularly if your baby is under 12 months.
Check for real fruit and veg ingredients, not just juice concentrates and powders.
Don't be swayed by claims that the snack will "help your little one develop good hand eye co-ordination" or is "sized and shaped to help develop fine motor skills". A cucumber stick, a crust of wholemeal bread, a rice cake or a banana can all do the same job.
Consider them all to be 'sometimes' foods.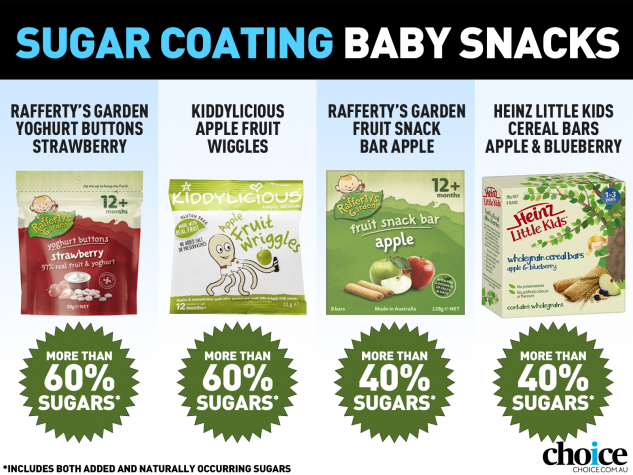 For CHOICE full report visit: https://www.choice.com.au/babies-and-kids/feeding-your-baby/first-foods/articles/packaged-baby-snacks