We were in the park last month, and my 4-year-old son was fascinated with a kid who was zipping around with a fast moving scooter. My son has a "basic" Kmart scooter which my son didn't really like. It works, but as you would expect from a basic model, it is heavier, which makes it quite tiring to ride on for a beginner, and almost impossible to move on any gentle slope.
We had a chat with his dad and he recommended us to get a model with double front wheels instead of double rear, for better control and comfort. The deck should be low for the stability and ride performance. We couldn't agree more to that, as we have had too many occasions that our son preferred to run instead of zipping on his scooter. The last thing we want is to carry a picnic basket, picnic mat AND a scooter at the middle of the park which could be far from the car park.
When I came across the opportunity to review Globber MY FREE scooter, it was an easy decision to retire the old scooter. From the published specification, it ticks all the boxes.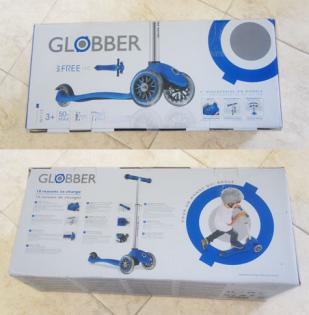 The scooter arrived in a decent box, and my son can't wait to jump onto it. He must has asked a million questions from the moment he saw the parcel, before he finally got to step on it.

This scooter can go fast – my boy intuitively know this once he stepped onto it, but he took things cautiously though. Within 15mins, he already felt more confident in raising his foot up for few more seconds. He was having a great time knowing that this scooter was carrying him much further and faster, with a lesser effort. The scooter has a significantly lower deck. To give you an idea - There were a safety sticker at the bottom of the deck. My son has peeled it off slightly and the loose corner is scrapping the ground as he zips around!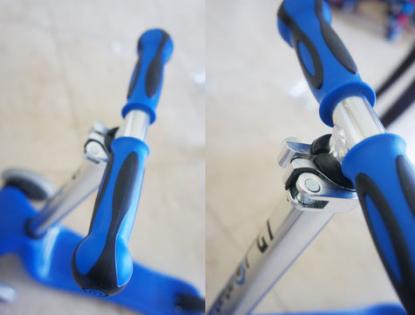 When dad came back from work on the same day, my son pulled him over to the scooter and started to explain how the brake and height adjustable T-BAR works. He was proudly adjusting the height position before I had to stop the 75 KG dad from getting onto the scooter for a ride. It was clearly labelled for 50 KG max, hello?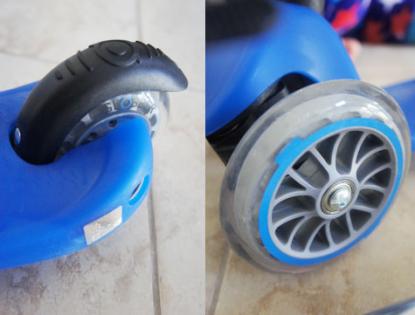 Fast forward 2 weeks later, my son is still excited about this scooter. It is a shame that the weather has not been too inviting for a long stay in the park but my son still enjoys the short rides around the house and walkways. True enough, the two front wheels make it easy to maneuver for a beginner. My son could lean his body forward for a faster speed, and he has already started to turn and sway by leaning left or right. It is a big plus of the scooter's design in my opinion. The brake is a great feature, and it is good to know that he could easily control the speed over a down slope.
While MY FREE scooter is still sparkling new so I can't comment much about the durability. However, it is definitely made of good quality with all intention to last. A closer inspection on the box would tell you that this product is designed in FRANCE but made in CHINA. I am pretty neutral to it as long as it is made with good quality, but I am highlighting this if you have concern on the country of origin.
I would advise parents not to let your kids ride on scooters too near to a busy road. They might look confident and stable, but from time to time they do have to jump off the scooters when it is slightly out of control from the slope or uneven surface. I would only let my boy ride the scooter in the parks with paved paths, or the covered area in our back yard.
The bottom line is, if you are looking for a scooter for your toddler as a beginner, or an upgrade from a basic model, Globber MY FREE is the right choice. For more information, please refer to this link.
I give it a 5 stars.