Stress affects our daily lives in more ways than we realise. Our muscles hurt, our heads ache and our sleep patterns begin to warp and change. This is all negative, obviously, and the long term effects of overworking yourself is well documented in medical journals the world over. What this means for you is that taking time for yourself is not only a good feeling, but it's a necessary step to take when you're aiming to be healthier and happier.
The new year is the best time to make lasting changes to your life, and a renewed sense of purpose is often found after a short break over the holiday season, but few people connect this good feeling with the time they took for themselves. We would like to show you how important your own time is, and to that end we have put together a piece on why taking time for yourself is a step toward better health.
De-Stressing
First and foremost, taking the stress out of your life is a long process, so you can't be expected to do it overnight. There are few things that can de-stress you like time away from the hustle and bustle of the city, and that is Why Taking Time For Yourself is a Step Toward Better Health sometimes exactly what you need. This doesn't mean camping in a small tent and spending a weekend getting eaten alive by mosquitos, but it can mean staying at a country-based bed and breakfast.
As has been thoroughly documented throughout the internet, magazines and scientific studies, the stressors of modern life can have a concerning impact on our bodies. Especially in cities, stress factors are abundant, and many people believe that stress from their jobs leads to stress-eating, which in turn affects their weight loss goals. Pressure on more pressure is never good, so take some time and let yourself escape the city for a weekend.
Relaxation
If a blissful lack of technology and connectivity isn't your style of holiday, maybe try taking a day at a day spa. The whole purpose of these places is relaxation, and being able to just sit back and relax is an ability few people seem to possess these days. A lack of relaxation in life can lead to heart disease and blood pressure problems, which can drastically shorten your lifespan in your later years. Is the rush, hustle and bustle of a productive weekend worth taking years off the end of your life?
Re-Evaluating
The problem with pressure in your life is that it can make you blind to the solution to a problem. We've all experienced an issue that we look at a thousand different ways and nothing seems to solve it, it's a frustrating way to spend a work day, and if it persists the problem only gets worse.
You often find the solution once you get away from that environment, as the departure allows you to clear your head and focus on other things, and when you return to the issue at hand your brain notices something it hadn't seen before. Applying this to the greater problems of your life could help to re-evaluate where your priorities lie, and could help you make hard decisions you've been struggling with for a while now.
Rest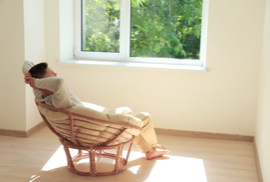 The culprit responsible for stealing away your hours of sleep might not be an old mattress or a draughty room, but the layers upon layer of stress and pressure you're under from work, or relatives, or friends.
Things that nag at your mind, no matter how inconsequential, can be destroyers of sleep, and as a result should be addressed in time you set aside for yourself. Sit down and examine what's really bothering you, and take your time to find a solution you want for yourself that you know will work.
This piece has hopefully shown you how important taking time for yourself is, and how many different parts of your life something as simple as stress can derail. Do your part to take care of yourself, and you'll see how much happier you can be.