Many of us go through hair removal, but do we all do the necessary steps to keep our skin and hair healthy when we undergo these treatments?
Philips offers readers top tips on healthy skin and hair removal:
Know your skin, you need to analyse what is best for you and your body. Different treatments will suit different people. Red heads stereotypically experience a lot of pain when waxing, so it's best if they look at other options. Also, if your hair grows quickly and is quite coarse you probably want to consider laser hair removal to minimise the time spent on upkeep.

Protect against UV with SPF. It may be autumn, but that doesn't mean that strong UV rays won't permeate through the Ozone layer. Find a daily moisturiser or foundation with a broad-spectrum SPF 30+ to hydrate and protect your skin.

Reduce your shower temperature. We all love a hot shower when it gets colder, however high temperatures and cleanser will wash away the natural moisture that resides within your skin cells. Ensure that your water temperature is appropriate and doesn't dehydrate your skin.

Exfoliate regularly. Making the effort to exfoliate whilst showering will assist in removing dead skin cells and allows moisturisers to properly soak in to the skin giving you an extra glow. The Philips Visacare will help exfoliate skin and keep you looking fresh in the winter months.

Moisturise... and moisturise again. Both before you start your day and again before climbing into bed, be sure to slather your body with a thick moisturiser that will trap and lock in your skins essential oils. Moroccan Oil is great for areas such as knees and elbows that dry out faster.

Skip over-the-top fragrances. Dry skin tends to be more sensitive, and will react to skincare scents, whether synthetic or natural. Opt for fragrance free products, and your skin will thank you.

Think ahead and remove hair. Spring will soon be here, so take time to invest in your future skin. Your hair grows in multiple stages so if you want to be on hairless this summer you should allow time to use your IPL machine or epilator a few times before the warmer weather comes around.

Many people experience different levels of pain when removing hair. Often they turn to a razor as it hurts less. However, this only acts as a short term method of hair removal. Branch into some new methods, many people find Epilators and IPL aren't that painful and the results last longer.

Get to the root of the problem. Waxing is a great way to remove excess hair. However, if done wrong people can experience pain and slight burning. Laser and IPL treatments are great alternative as it does not lead to scaring and grazed skin.

Location is everything. Attending appointments can be a hassle when trying to fit them into our busy schedules. Finding effective, hassle free treatments at home are key to looking great this summer. Philips offers shaving products for days of smooth skin, epilators for weeks and IPL for months.
One top-notch epilator that you would want to try is the Philips Satinelle Advanced Wet & Dry Epilator, which can be used on the legs, body and face.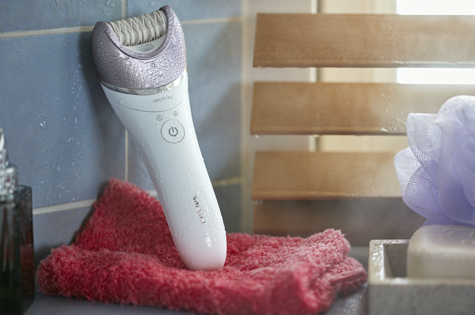 The S-shaped handle helps steer all over the body. The widest head with ceramic discs epilates close to the skin to grap even fine hairs for quick and long lasting results. Wet & dry use with 5 accessories for personalized beauty routine.
Want to give it a try? Join our giveaway and get a chance to win one unit!

THE PRIZE
One (1) Unit of Philips Satinelle Advanced Wet & Dry Epilator
To join the competition, please refer to the competition tab below!
Win 1 Philips epilator - for healthy skin and hair removal