School holidays start in some parts of Australia this coming weekend - and it's time to start thinking about what the kids can do to keep them occupied.
Here's 3 suggestions if you're in Sydney.
1. Kids in the Park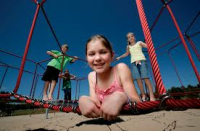 Sydney Olympic Park's regular school holiday activity program gets underway from Saturday.
They promise 14 new "boredom busters", 20 free activities and more than 10 "good value" options at less than $20.
There's everything from a two-hour cheerleading class, football and AFL footy clinics, martial arts, a slimefest, laser tag, writing workshops, drawing classes, circus fun, bird watching and so much more. And on NRL Grand Final day on Sunday 6th October, there's a special entire day of fun.
When: Saturday 21st September – Sunday 6th October
Where: Sydney Olympic Park
Cost: from free to costly
Further info: www.kidsinthepark.com.au
2. Plants in Space!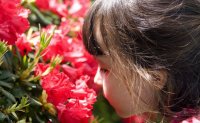 Discover some weird and wonderful space plants these holidays at the Royal Botanic Gardens in the city.
Young and hopeful astronauts can have fun and get creative by
making a miniature hanging plant-planet using recycled PET bottles and incredible Tillandsias – special plants that don't need any soil
exploring the Garden to learn about amazing epiphytes – plants that use their roots to hang onto high branches of trees or even cling to cliff-faces!
creating a crazy alien using leaves and other plant material.
Led by out-of-this-world teachers, all galactic materials are provided for adventurers and aliens alike.
When: Monday to Friday, 23rd September – 4th October
2 sessions daily: 10.30am – 12 noon & 12.30pm – 2pm
Where: Royal Botanic Gardens
Cost: $16.50/child or $15 in groups
Bookings: 02 9231 8134 - essential
3. Tall Ship Festival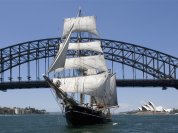 17 tall ships, 45 war ships, family pirate cruises, fireworks, lunch, champagne and dinner cruises and an International Fleet Review.
If you're a vessel that travels on the water and you're not in Sydney Harbour in the first week of October – well, you're missing out on the biggest Harbour event in 100 years!
Tall Ships are rare and becoming more rare with millions of dollars required to restore and maintain them but for those who have sailed in one, there's nothing quite like it. At the Tall Ship Festival, you can climb a mast, enjoy a family pirate cruise, take a convict tour and much more.
Be part of it.
When: Thursday 3rd – Thursday 10th October
Where: Sydney Harbour
Cost: check website for details
Further info: www.sydneytallships.com.au or www.navy.gov.au/ifr