Every Monday, we highlight 3 things to do this week. It might be something for all of us; and it might be local; and it could be related to any of the subjects we write about on Motherpedia - money, education, health, fitness, food, beauty, pregnancy and, of course, kids.
1. Get your life instyle
Starting this Thursday (1st August), Life Instyle & Kids Instyle is set to "defy ordinary" at Melbourne's Royal Exhibition Building. With 300 specially-selected industry-leading companies represented, the exhibition includes premium, bespoke and design-led products in homewares, giftware, lifestyle and children's products.
It's an initimate shopping environment with artisans and designers on-hand to showcase their designs and talk about what they do.
Life Instyle & Kids Instyle is on from 1st - 4th August at the Royal Exhibition Building, Melbourne. Register here.
2. Wear your jeans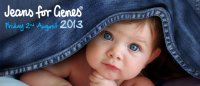 Friday is the annual Jeans for Genes Day, the national fundraiser for the Children's Medical Research Institute based at Westmead Hospital in Sydney. The idea is to wear your jeans to help raise much-needed funds for research into birth defects and diseases such as children's cancer, epilepsy and a range of genetic disorders.
Every dollar riased helps the scientists at CMRI discover treatments and cures to help give every child the opportunity to live a long and healthy life.
For further information, visit the Jeans for Genes website and donate money here.
3. Noah's Flood in Townsville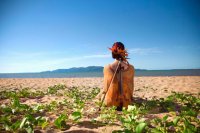 As part of this year's Australian Festival of Chamber Music in Townsville, Saturday night (3rd August) will feature Benjamin Britten's Noah's Flood at the annual Families' Concert.
To be held at the Townsville Civic Theatre, the performance includes solosits and musicians from overseas as well as local choral groups, children's choirs and buglers.
"The Australian Festival of Chamber Music and Townsville are the perfect setting for Noah's Flood. The whole community is getting involved, from helping with costumes to rehearsing the children and finding bugles. It's exactly what Britten intended and it's wonderful to provide the chance for so many local musicians and singers to perform alongside AFCM guest artists,' said Sue Hackett, AFCM General Manager.
Buy tickets to the Families' Concert, or any of the other Festival events throughout the week, right here.