Subway® Restaurants Launches New Kids' Meal That Parents' Can Feel Good About

Subway® Restaurants (SUBWAY) has launched their new and improved kids' meal, KidsPak™, a permanent change to the menu that offers Australian families a nutritious fast food option for their kids, and a better-for-you industry alternative.

The new SUBWAY KidsPak™ contributes to the recommended 2&5 and is a nutritionally balanced option that parents' can feel good about. The meal features a mini sub (with a choice of ham, turkey, roast beef or Veggie Delite™), an SPC Fruit Crush containing 99% fruit, and a 350mL Mount Franklin water.
Accredited Practising Dietitian Kate Di Prima welcomes the launch of the new KidsPak™ from SUBWAY, and commended the company for launching a wholesome kids meal amidst a lack of choices.
"Australian families are busier than ever and often have to rely on fast food or takeaway for convenience or just for a break in routine. The new KidsPak™ at SUBWAY is a great new, healthy fast food choice on-the-go, that parents can feel confident about," Di Prima said.
"A lot of the major fast food outlets offer so-called 'healthy' offerings but a lot of temptations also exist for kids like deep fried foods and burgers. SUBWAY KidsPak™ is a nutritionally balanced option that is perfect for growing, energetic bodies containing carbohydrates, lean protein, fresh salads and a fruit crush."
"In addition, SUBWAY has made ongoing changes to ingredients to reduce risk nutrients like sodium and saturated fat to improve the overall quality of their menu which is great to see."
"I'm excited about KidsPak™ at SUBWAY because parents have this great opportunity to set positive eating out habits early, and demonstrate it is possible for a family to enjoy a quick meal at a fast food restaurant that's also healthy".
Ms Di Prima has extensive experience in fussy eating and has authored articles and cookbooks on an issue many parents' face.
"When it comes to kids' eating habits the more power we can put in their hands to choose healthy foods, the better. The great thing about SUBWAY is that kids' have the freedom to have their sub made the way they say from healthy ingredients, so they can choose their bread, meat, and as many different kinds of salad combinations they like," Di Prima said.
To celebrate the launch of the new KidsPak™, SUBWAY is teaming up with Disney.Pixar for
the launch of Inside Out, the latest animated feature film from Disney that opens June 18 and is set to be a hit these school holidays.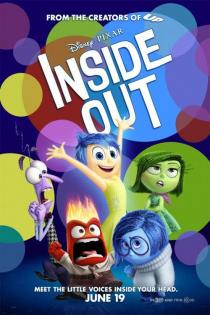 The Prize
Get a chance to win 1-of-5 Family Passes to see Inside Out in movie theatres by joining below!

"Disney and Subway have a shared focus on family, and we are excited to team up with SUBWAY on our latest release from Pixar, the highly-anticipated Inside Out," said Jo Bladen, General Manager, Studios, The Walt Disney Company Australia and New Zealand. "Disney's family entertainment and the healthier choice KidsPak™ make a perfect pair that we are thrilled to offer Australian consumers."
For a very limited time only and while stocks last, customers can choose from six collectable and functional Inside Out messenger bags with any KidsPak™ purchase.