For busy mums on the go like us, finding personal-time for self-nourishment while looking after growing kids can be like finding water in the desert; possible in theory, but impossible in practice. And when we do 'find water', it's typically more mirage than miracle. Audiobooks have helped me find a little bit of personal-time each day. I call them my other little miracle.
The pleasure of reading
For years I loved to read. As a little girl I'd curl up in bed with a book and enjoy getting lost in another world. I'd read on holiday, read on the train, read on my lunchbreak in the park near my office.
The sensual pleasure of a big, heavy book in my hands, the coarse paper under my fingers, the smell of the ink, the sound of the pages rustling. I loved it all.
Books and babies
For a while after baby #1 arrived I persevered with reading but inevitably I'd forget to pack my book, or I'd leave it in the car while waiting at the doctor's surgery, or I'd leave it behind on a chair at a café.
The thing about reading a book is that it demands your entire attention. That's an attraction sometimes. It's nice to get lost in the story and be transported to faraway lands. With children around that's not really an option, unless they're asleep.
Finding gold while out on a stroll
I took baby out for a stroll one day, trying to get back into some sort of fitness regime, and bumped into my friend Jenny, who was strolling her little one around the park.
I asked her what music she was listening to. She smiled and said, 'I'm reading a book' and laughed.
'Huh?' I said.
'An audiobook' she said.
'A what'? I continued
'An audiobook. I'm listening to Pride and Prejudice' she said.
'You can do that?' I asked.
It must have been the look of glee on my face that prompted her suggestion.
She laughed again. 'Go home, download an app called Audible, it's from Amazon, and get your first audiobook. Then call me and thank me'.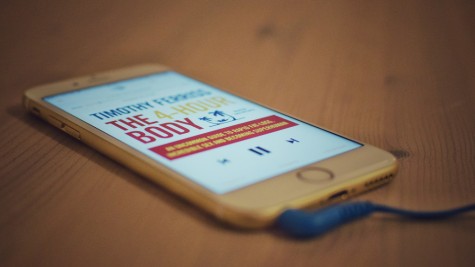 Thousands of popular titles are available in Audible.com (Image source: Flickr, #5 Project 365 by davidjmclarepics is licensed under CC BY 2.0)
Audiobooks have changed my life
Truly. No really. Audiobooks have changed my life.
In the 18 months since my first book, I've listened to more than 40 books. Now let me tell you, before I'd struggle to get through one book in 2 weeks. Now, I can get through a book in 2 days, and I think I'm a better mother for it. 10 minutes of listening a day gives me pleasure I can't describe. I'm happier around my little one.
How audiobooks work
If you've ever bought a kindle book online, it's basically the same process. Go to Audible.com and sign in with your Amazon account. Search or browse for titles. Click to listen to a preview of the narrator reading the book. This is important. Some narrators I can't stand. Popular titles often have many versions available. Pick one you like. Buy the audiobook.
Download and install the Audible app on your smartphone. Sign-in with your Amazon account details. The book should download automatically. Then simply click 'play'.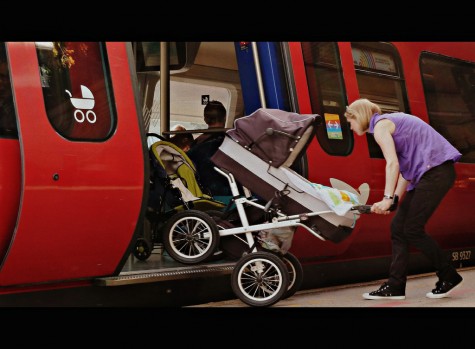 Audiobooks make it easy to listen to your favourite books, on the go (Image Source: Flickr, P is for Pram by Comrade King is licensed under CC BY 2.0)
What makes audiobooks special?
Here's what I love. I can put my headphones in at any point in the day and resume my book. Sitting in traffic, walking around the supermarket, cleaning the house, taking baby for a walk, waiting in a store or anywhere. There are so many moments in my day where I can claim back a few minutes for myself. These minutes add up.
Now I put my headphones on underneath my clothes and keep my phone in my pocket. Any spare moment I pop even just one headphone in and press the button on the headset to resume play.
With the app I can speed the narration up or slow it down without changing the voice. I can click back 15 seconds if I miss something.
Unlike forgetting a book, I never forget my audiobooks, as long as I have my phone and headset.
Oh, and one unexpected but positive side-effect. They stopped me going shopping to fill that craving that came from not meeting my own needs. So if you're a shopaholic, you'll find audiobooks far more affordable (around $14 a book on average) meaning you can avoid getting any further into debt.
OK, so the experience listening is not the same as reading. Audiobooks can be a beautiful experience though. Recently I listened to Hemingway's 'The Old Man and the Sea', read by Donald Sutherland, and it was just gorgeous. It was so vivid and colourful.
I'll always love sitting down with a good book, and occasionally I do. For those moments when I can't, audiobooks are the perfect substitute. Often I even enjoy them more.