New analysis by CHOICE has found the $1 a litre milk boycott, which is seeing consumers swapping cheaper supermarket private label fresh milk for premium brand products such as Dairy Farmers, will see consumers spending an additional $113.7 million with no guarantee this will be passed on to farmers.[1]

"If the current private label milk boycott continues, consumers look set to spend tens-of-millions more this year in the belief that purchasing branded milk will result in farmers receiving a bigger pay day," says CHOICE Head of Media Tom Godfrey.

"While consumers have poured so much into branded milk products,processors like Murray Goulburn, Fonterra, Lion and Parmalat have offered no guarantee that they will pass on the windfall to farmers."

CHOICE is calling for all milk processors to confirm if they are passing on any extra funds from branded milk sales to farmers. CHOICE has written to all milk processors asking them to confirm what additional profits are being made from the consumer boycott and if they plan to pass on funds.

"Consumers are making decisions based on an assumption that they are helping Australian farmers. We want the big brands to be honest to help consumers make informed decisions in the supermarket," Mr Godfrey says.

Since the boycott started in May, sales of $1 per litre private label milk have dropped dramatically, falling from 63.3% of sales by volume to just 50%.[2] Given the average retail price of branded milk is $1.92 per litre, 90% higher than private label milk ($1.01 per litre), processors are set for a serious windfall.[3]

"Unfortunately, consumers are paying 90% more with no guarantee from processors that farmers will benefit financially. Currently, whether you purchase private label milk or branded milk such as Dairy Farmers or Pauls, the farmer receives the same price price per litre from the processor."

If Australians continue to buy branded milk at the current rate,[4] CHOICE estimates they will end up spending an extra $113.7 million in the next 12 months, taking total sales to $1.5 billion[5] up from $1.39 billion[6] between August 2014 to August 15.

"With the average farmgate milk price typically around 36% of the average fresh milk retail price,[7] we calculate that if the additional money is passed on by milk processors that farmers should get an estimated $41 million payday,[8] Mr Godfrey says.

"The sad fact is, since the private label boycott began these major processers have cut the farmgate milk price paid to farmers even though they are being paid more by consumers.

"Consumers deserve better information . Many people are buying more expensive milk to support farmers. We want milk processors to tell us where the additional money is going so that consumers who care about farmers can shop with confidence."
To support Australian dairy farmers, you can do the following:
Buy Australian dairy products, irrespective of brand.
Buy branded milk if your budget allows (but if not, buy private label milk rather than no milk at all).
Buy directly from a local processor - or better still a farmer at your local farmers' market - if you have the option.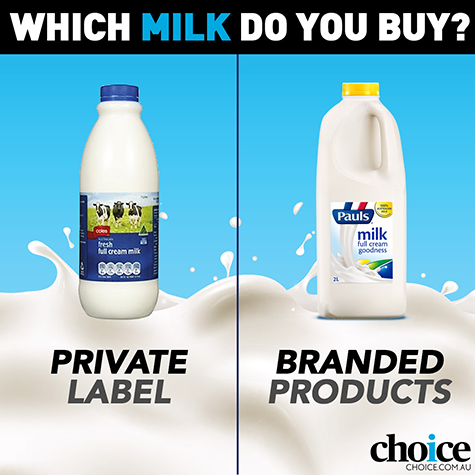 [1] CHOICE analysis 16 August 2016, shows 36% of the estimated extra $113.7 million in retail milk sales = $41 million.
[2] Dairy Australia chart "Company Branded vs P/L Fresh White milk",https://twitter.com/Hoddlecows/status/760607373308276736
[3] Dairy Australia Dairy Situation And Outlook June 2016, p14
[4] Ibid, Australians currently buy about 1025ML white fresh milk per year
[5] Ibid, the assumpt is that 50% is sold through private labels at average $1.01/L and 50% sold through name brands at average $1.92/L.
[6] Dairy Australia Dairy Situation And Outlook October 2015, p 12. In the 12 months to August 2015, 63% was sold through private labels at average $1.01/L and 37% sold through name brands at average $1.94/L. Total volume fresh white milk sold in this period = 1026ML.
[7] Dairy Australia, http://www.dairyaustralia.com.au/Markets-and-statistics/Prices/Farmgate-Prices.aspx.
Dairy Australia, Dairy Situation And Outlook October 2015, p 12. The 2014-15 nationwide average FMP was $0.485/L, compared to an average retail price of $1.35/L. Average retail price calculated from sale volumes and prices in
[8] Op. Cit. CHOICE analysis

ABOUT THE EXPERT
Set up by consumers for consumers, CHOICE is the consumer advocate that provides Australians with information and advice, free from commercial bias. As vital today as when we were founded in 1959, CHOICE continues to fight for consumers and uncover the truth. By mobilising Australia's largest and loudest consumer movement, CHOICE fights to hold industry and government accountable and achieve real change on the issues that matter most.