Most of us are familiar with the feeling. We've been drinking just a little too much, consuming far too much red meat, seem jaded and stressed and have put on a few kilos.
It's time to detox, wind down and get away from it all for a few days.
Where better to take a step back from the pressures of modern life than Olivia Newton-John's Gaia Retreat and Spa. Yes, THAT Olivia Newton John. The singer, songwriter, and actress; four-time Grammy award winner who has amassed five No.1 hits. She and close friend and business partner Gregg Cave set up Gaia, beautifully situated in the Byron Bay hinterland, a decade or so ago.
As a wine-swilling carnivore, I thought I might struggle for six days without alcohol (after all, organic ginger beer isn't the ideal companion on State of Origin night), and might crave a hamburger or two.
Not so. I'm pleased to say that I made it through unscathed, and my doctor commented on how well I was looking afterwards. I also felt lighter and more clear-headed.
Gaia is a health retreat where guests set their own pace - and their own goals - with the help of a team of health professionals.
If you are thinking a boot-camp health experience, compulsory abseiling, being shouted at by sergeant-major types - I was ready to eat mung bean soup and tofu salads and to drink warm water infused with dandelions - then think again.
Fortunately Gaia manages to turn what could be a nightmare into a pleasure.
Guests are offered individually tailored programs, flexible dates (check-in for a couple of days midweek, or for a long weekend) and complete freedom of choice as to which activities they want to do. Fancy doing some clay sculpting, or consulting a naturopath? Maybe a session with a personal trainer? Fine. Prefer an afternoon snooze on a hammock or day bed. That's OK, too.
Mobile phones are banned in public areas (no Tweeting over dinner) and laptops discouraged. Most days I opted for a stint on one of the day beds or hammocks dotted around the property, a swim in the heated pool or a quiet moment or two on the veranda of Kukura House, a Polynesian-style long house that is the centre of all activity.
I passed on the early morning yoga, knowing from my previous experience that I am about as graceful as a cardboard cut-out, and that I would be thinking about scrambled eggs when I was supposed to be thinking about "golden shards of light".

Located in stunning, sub-tropical gardens less than an hour south of Coolangatta Airport (and just a few minutes from Ballina Airport), Gaia Retreat and Spa is a little oasis of calm.
The property offers a day spa centre with 13 treatment rooms, a heated salt water swimming pool, tennis court, hot-tub spa, sauna, steam room, walking tracks and its own organic garden that provides many of the herbs and vegetables for the restaurant.
It's easy to walk the grounds and not see another soul – or to join a nature walk or a communal table at dinner if you feel like some company.
The treatments were exceptional. I enjoyed an exfoliating steam and body polish, and a blissful 90-minute massage.
Massage choices include Swedish, Kahuna, hot rocks, and scalp massage, along with more esoteric (and baffling) options like crainioscral balancing, and reflexology and more mainstream facials and pedicures.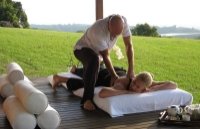 So to the food
Everything is organic and almost entirely locally produced. Breakfast (with the exception of smoked salmon) and lunch are exclusively vegetarian but evening meals may contain fish or poultry.
Breakfast consisted of freshly squeezed fruit and/or vegetable juices, various toasted organic mueslis, organic yoghurt and fresh berries, followed by a dish of the day, maybe a fresh omelette, scrambled eggs or frittata, with smoked salmon and avocado, and wholegrain or gluten-free toast with a range of healthy spreads (thankfully including Vegemite).
Lunch was often the most challenging meal of the day for me, although I did like the corn and courgette fritters and a vegetable curry with chapattis and fruit chutney.
The three-course dinners were varied and tasty, although undoubtedly healthy. Think dishes like Moroccan chicken with apricot and pistachio rice and green beans; and snapper in vegetable broth with Jerusalem artichokes. A stir-fried chicken and cashew dish with an Asian slant was also delicious.
All guests are asked for a list of dislikes/allergies before checking in and the chefs can design individual menus on request, including vegan and vegetarian options.
Whisper it softly but there is even a wine list featuring organic and biodynamic wines available to accompany dinner – and Cave says guests who want red meat can have it if they request it in advance.
But that would rather ruin the point of the exercise, wouldn't it?
Fine Print:
Gaia Retreat and Spa, 933 Fernleigh Road, Brooklet, NSW.
Two-night stays, the minimum, start from $1,145 single and $1,915 double including accommodation, all meals, morning yoga and other scheduled activities as a gift pack and a $250 spa voucher. A wide range of packages are available.
Note: This article was first published in Australian Natual Health magazine and Gourmet on the Road.