If you want to give an impression before the gift is wrapped and have fun making them, then get creative with these ideas. From chalkboard wrapping to fabric wrap, each unique idea can be personalised to suit your receiver. Here are 5 ideas to make your very own gift wraps which are simple, affordable and sustainable with basic things you can find at home easily including newspaper and fabric etc.
1. Wrap a gift with creativity and sustainability using paper and books you already have! Personalise your gift with paper from your special person's favourite book, or a map of their favourite place! This gift wrap idea is simple and easy, and you have all the materials already! It will be sure to make an impression before the gift is even opened.
Wrap a gift using old maps or an Atlas or Gregory. You could also use any old Children's books with illustrated pages you may have lying around the house. After wrapping, cut a strip around 4cm wide to put around the long length of the present. You can mix different pages to make more of a contrast, then tie string or ribbon around it. Done! Easy and fun and free!
2. A little black craft paper and white chalk or paint markers are all you need to make a cute personalised easy and cheap wrapping paper for any gift. You can find these materials at any newsagent or art shop. Wrap a gift using black paper or black matt cardboard. You can then illustrate or write a message on the gift using chalk. For example, draw a ribbon and a polka dot pattern on the paper and write the name of the person it is for. This is a great way to personalise wrapping paper in a cheap way. All you need is some fresh great ideas. Like drawing patterns or the receivers pet or love hearts or whatever your heart desires! So, there you have it, they are cute, affordable and they look great in a pile for a festive season celebration.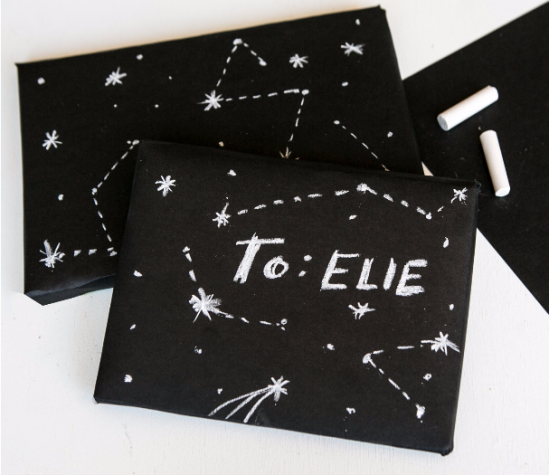 3. Are you crafty and creative and love to make cute quirky things? Then this one is for you. Romantic and tactile, it adds another dimension to wrapping paper. Trace a heart shape on thick cardboard and cut it out using a Stanley knife. You may want to make the heart 15mm wide depending on the size of the gift, if it is a big present, then heart shape could be 30mm wide. Trace one side of this heart onto any recycled paper at homes, such as newspaper or craft paper. Cut out the half of the heart shape and wrap your gift with a sheet of coloured paper underneath. You may want to use red tissue paper. Then fold the half hearts over to make hearts in the shadows. This wrap idea is for love wrap or Valentine's Day. What a great way to say I love you before you even get to the present! Handmade with a whole lot of love! Mix the paper colours and textures to suit your style.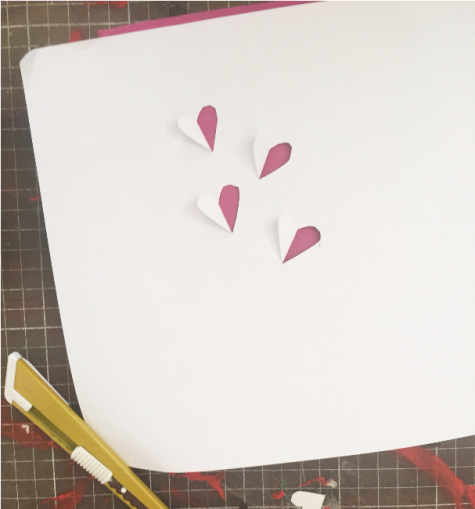 4. Tactile wrapping which can be kept and re-used. It's time to get rid of wasteful wrapping paper which is bought and used once then discarded. This idea is one to keep! Find a fabric pattern your receiver will love and get twisting and tying. Get any fabric including a scarf or tea towel. The fabric item may even be part of the gift where users will keep the wrapping tea towel and re-use it. Place gift in the middle such as a bottle of wine and wrap and twist the fabric around the bottle. until the gift is totally concealed. Tie a bow with the fabric at the top. What a great creative way to give 2 gifts in one and save the planet.
5. Stamp your own paper in a unique and creative way. This technique couldn't be easier and what's more is there is nothing to buy! You will have the essentials at home and can make stamps out of anything. Find a sheet of sustainable paper or newspaper or craft paper. Get a pencil with a rubber on the end and stamp it into paint or ink and press on the paper to make a polka dot pattern. This is a crafty DIY to make any recycled paper into homemade wrapping paper. You may also like to carve a heart shape in the rubber with a Stanley knife or use other found objects to stamp different shapes. Get creative and take this idea and run with it. You will have so much fun you will want to make more sheets to save for your next gift.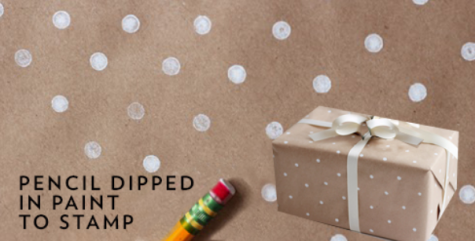 Now get making and have fun! They are simple and you shouldn't need to leave your home to make at least one of these ideas.

ABOUT THE EXPERT
Milenka Osen is working at La La Land, online greeting cards & gift shop in Australia. She specialises in design and marketing for La La Land and runs the online store. She formerly was the creative behind TMOD, which is now one of La La Land's unique stationery brands.