Parramatta road, Bus stop – Sydney Central
Central Sydney is a fantastic place to visit, and if you want to really get to know the city, it's a good target for your stay. Whether you want to enjoy great food and drink, sample a bit of the local culture, or just have a great relaxed holiday, there's no better choice. Here's our guide for what you can see and do in central Sydney.
CUISINE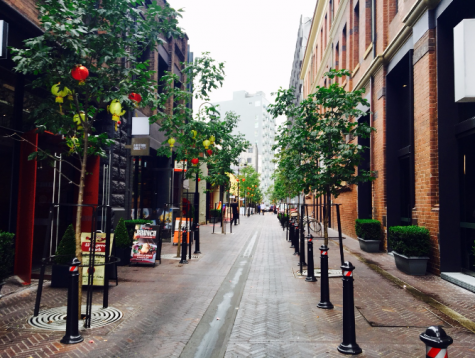 Spice Alley– Sydney Central Park
Foodies will love this area of the city, which focuses mainly on Asian cuisine. Chinatown and Spice Alley are close to one another, where you can enjoy delights such as dim sum, noodles, street food, dumplings, and more. The Spice Alley is a hidden laneway off Kensington Street, offering hawker style paradise with everything almost under $10. There are also the more fine dining choices such Nomad for beautifully matched food and wine pairings, ribs and burgers or Max Brenner for chocolate desert lovers. There is definitely something for every palette, from the seasoned gourmet to the traveller who will try anything.
ACCOMMODATION
Be sure to look out for stylish and comfortable hotels around Sydney central. The closer you are to all of the action, the more you will enjoy it. The area does get busy at night, around Liverpool Street in particular, so you may wish to stick to the outskirts if you want a quieter night in. On the other hand, congestion won't bother you when you are right in the centre, as you will find everything that you need in easy walking distance. Public transport options are available should you wish to go further afield into the city as a whole, which is great for a more casual city break. You don't need to worry about hiring a car or using a Sat Nav to get yourself around.
CULTURE
If you are a fan of the arts, get ready to enjoy yourself. Capitol Theatre and Belvoir Theatre can be found in central Sydney, so you can choose between them. Go for international ballets and musicals with a glitzy theme at Capitol, or head to Belvoir for contemporary performances designed to make you think. You might even spot the next star – Hollywood favourites such as Cate Blanchett and Geoffrey Rush have been known to walk these boards in their early careers. Of course, if you want something a little less high-brow, you can always check out the indie theatre companies, who tend to perform above bars or other establishments in order to draw a crowd for unknown playwrights and actors. Don't forget to check out art galleries in the area too, for an idea of what the art scene is like here.
SHOPPING
It wouldn't be a holiday without some shopping thrown in, and Paddy's Markets are definitely your go-to for Sydney Central. The markets have been here for 150 years and it's easy to see why they are still so popular. You can pick up just about anything you want, from fresh produce to eat here and now to gifts to take home. There are clothing stalls as well as sporting goods, and the kind of tacky tourist-trap souvenirs that you know you shouldn't want but will anyway. The giant hall offers shelter from the elements and is always thronged with people, so it's also an ideal place to take a break from shopping and watch the world go by. It's also close by to some restaurants and cafes where you can stop off for a bite to eat to keep your energy up.
As if all of this wasn't enough, you can also keep your eye out for seasonal events and festivals that take place throughout the year if you want to time your visit to coincide. If you think you love Chinatown now, just wait until you see it during the Chinese New Year celebrations!