LUSH AVOCADO MAYONNAISE, By Teresa Cutter, The Healthy Chef
This Lush Avocado Mayonnaise is perfect for dunking oven-roasted sweet potato chips into or serving alongside smoked salmon and leafy greens. For a creamy, healthy salad dressing simply add a little more water when blending!
INGREDIENTS
2 avocados
60 ml (¼ cup/2 fl oz) Grove Avocado Oil
½ clove fresh garlic
1 tablespoon lemon juice
125 ml (½ cup/4 fl oz) water
pinch of sea salt
METHOD
Combine avocado flesh with avocado oil, garlic, lemon juice, water and salt into a blender.
Blend until smooth and creamy. Add a touch more avocado oil if required for consistency and flavour, then spoon into a glass jar.
Serve over salads and vegetables or enjoy straight from the jar.
Optional: Add a splash of green tabasco!
SUMMER CAPRESE SALAD, By Teresa Cutter, The Healthy Chef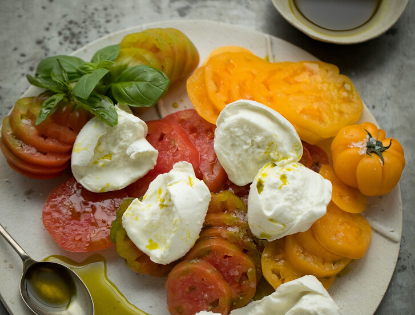 When a dish is as simple as this one, it's extremely important to use the absolute best of ingredients possible. Perfectly ripe tomatoes, Buffalo mozzarella, fragrant fresh basil leaves and a generous drizzle of the finest extra-virgin Grove Avocado Oil which completes the dish. Add a scattering of flaked sea salt and you have the perfect summer dish.
INGREDIENTS
1 kg ripe heirloom tomatoes, sliced
2 – 3 balls Buffalo Mozzarella, loosely broken
Handful fresh basil leaves
3 tablespoons Grove extra virgin Avocado Oil for drizzling
Flaked sea salt, just a scattering
Fresh crusty sourdough to serve (optional)

METHOD
Arrange tomato and mozzarella onto a serving platter.
Scatter with basil leaves and drizzle with avocado oil.
Season with flaked sea salt and enjoy.