In Autumn and Winter, the bedroom becomes a focal point as we yearn to transform personal spaces into the ultimate haven of comfort and style.
So which interior design movements are the new players in bedroom decorating this season? Leading homewares stylists Betty Wong and Lucy Wolstoneholme for MyHouse explain the bedroom trends we can expect to return to vogue in the cooler months.
1. Checks and Stripes
Classic or contemporary, nothing beats the timeless look of checks and stripes. This season we've witnessed an explosive comeback of trad-tartans, embracing 70s punk fashion with bold red and black & white patterns.
Autumn/Winter 2014 will offer a fresh face-lift with a subtle adaptation of this iconic design. Thin lines and softer shades will make a statement in the bedroom without compromising elegance or visual harmony. Incorporate the classic check and stripe look into bedspreads, curtains and feature pillowcases for a much needed crisp edge.

2. Magnificent Metallic
Forget everything you ever knew about never combining silver and gold. Mixed metals take the spotlight this season with rich coppery shades, warm gold and cool silver accents for creating an imperial feel in the bedroom and adding that extra touch of glam.
This season isn't about over the top style, but rather embraces strokes of luxury to create a space graced with rich personality and chic comfort.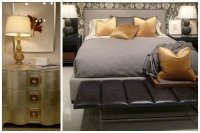 3. A Texture Tendency
Texture has always been one of the key ingredients required to make a room look truly beautiful, but this year pattern and texture layering is especially big.
Whether it's the materials used for bedroom furniture and accessories or the colour and print of fabrics and walls, strategic interior layering will make its way into the bedroom this season.
This trend will be interpreted heavily through statement decorator pieces such as bedside lamps, frames and wall furnishings. Innovative combinations such as wood and ceramic mixed with carved stone will add spice to the bedroom interior and create an understated depth that plays on the complexity of nature and gives the eye something interesting to look at.

4. Classic Glamour
Say goodbye to neutral palettes and floral inspired pastels and say hello to valiant glamour. This season is all about interiors encapsulating drama, luxury and extravagant aesthetics. When it comes to furnishings, think The Great Gatsby meets Marie Antoinette, as marble, stone and luxurious leather make a huge comeback. Vibrantly dark and moody shades such as deep purple (below), peacock green (main picture), brick-red and navy will rule the colour scheme of the season.
Uneasy about trying dark shades in the bedroom? Start with a feature wall, or try punctuating the space with reflective surfaces to bounce light around the room.