I was asked to review two different skincare ranges from two budget-conscious brands. At the start, I have to say I don't look anything like the main picture in this article and I don't believe in 'anti-ageing' products. That doesn't mean I won't buy them, but I don't buy the PR spin.
One thing's for sure – we all age at the same rate and, when you read articles like this one here recently on Motherpedia, you also know it's not what you put on your skin that's going to help you look younger, but what goes inside your body.
So I approached this Tried and Tested review from the point-of-view of not expecting to have less visible signs of my age (40-something in pretty good shape if I do say so myself) but just how the products felt.
NeoStrata
The first thing to note is that they don't waste money on packaging or making their products look good. This has its advantages because it means they invest, instead, in their product. I tried three products.
Restore Facial cleanser– described as "powerful anti-ageing without irritation", which was a true claim. This was my favourite product of their range that I tried. It was smooth, easy to apply and rinse off; it lightly exfoliated but didn't dry it out or feel grainy afterwards and my skin felt noticeably smoother. I liked this. RRP $35.95. 4 stars.
Restore Daytime Protection Cream SPF15– this is one where it supposedly reduces visible signs of ageing. See above! I didn't like this. Like all of the NeoStrata range, it's fragrance free which is the first thing that put me off. I prefer a moisturiser with a nice, subtle fragrance although I know others think differently. The worst thing about this is that, after about 15 minutes, it left my skin feeling dryer than when I put it on. The tube it is in also doesn't allow you to empty it. RRP $49.95. 2 stars.
Ultra Moisturising Face Cream– I only had a small sample tube of this to try that I used at night time. It was nice to apply, was not too oily and left my skin feeling smooth even after a 7-hour sleep. RRP $49.95 3 stars.

Herbalife SKIN
I tried the Herbalife SKIN 7 Day Results Kit which is "clinically tested" to result in softer skin and diminished appearance of wrinkles. The kit, comprising tubes that comes in a tub-like container, includes an aloe cleanser, serum, two types of moisturisers, a night cream, clay mask and small packs of citrus cleanser, eye gel, eye cream and a berry scrub.
The promise here is that if you use the Herbalife SKIN five-step program that your skin will be ready to "hit the beach" make-up free this summer. I thought this was a strange promise as I always go to the beach without make-up. The five-step program is cleanse, tone, treat, target, moisturise.
I used all the products over seven days. I did not notice a 96% improvement over the seven days in "smoothness, softness, glow and radiance" as the PR material suggests. (I am not even sure how they measure the 96%).
Overall, I thought the products were easy to use. The two moisturisers seemed a bit watery to me (compared with my usual moisturisers) but I liked the mint clay mask, the aloe cleanser and really liked the berry scrub. I would use these again. My individual ratings are:
Aloe Cleanser– 4 stars
Line Minimising Serum– 3 stars
Daily Glow Moisturiser– 2 stars
Protective SPF30 Moisturiser– 3 stars
Replenishing Night Cream– 3 stars
Mint Clay Mask– 4 stars
Citrus Cleanser– 4 stars
Eye Gel / Eye Cream – both 3 stars
Instant Berry Scrub– 5 stars
RRP: individual items start at $32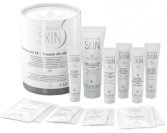 Overall Verdict
For the price, both of these brands offer a good quality product overall and are worth considering.