Burn fat, not time – that's the mantra attracting many mums to take up home-delivered, healthy meal plans prepared by Brisbane-headquartered FivePointFour. Not only are the meals helping to nourish pregnant and breastfeeding mums across the Eastern Seaboard, but they also offer nutritionally balanced weight loss meal plans designed especially for women.
Twenty-five-year-old Founder Ben Doolan, who is an expert in Health Sciences and Nutrition, said the meals were tailored specifically to help women burn stubborn fat with the perfect macronutrient breakdown of protein/carbohydrates/fats, along with a delicious taste.
\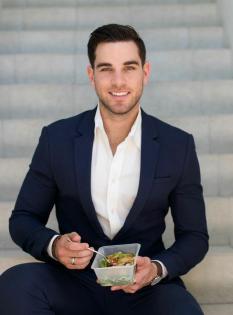 "It's scientifically proven that women burn fat differently to men, as different hormones drive the female metabolic rate," explained Ben. "Each women's weight loss meal is 300 calories and they receive three per day, which equates to a total of 900 calories. We do all the work so there's no need for you to calorie-count or portion-control. "
"Our meals are packed full of flavour, are high in energy-enhancing protein and low in fat, carbohydrates and sugars.", he added. While he encourages exercise with the extra time you'll gain from his service, Ben emphasises that exercise is only 20 per cent of the equation, with nutrition at 80 per cent.
FivePointFour's maintenance meals are ideal for expecting or breastfeeding mums and have been doctor-approved. In fact, some GPs have begun "prescribing" FIvePointFour's meal plans. "Nutrition is vital especially if breastfeeding, so our maintenance meals are ideal," Ben said. "We have a number of enquiries each week for people buying new mums a box of meals as a present.
The gift of healthy food over a stuffed toy is great way to help out. Working parents take the meals to lunch saving them money on takeaway and expensive food court lunches. Mums are also purchasing our meal plans as 'share meals' that they can eat with their toddlers., he said.
Ben's business partner Tamara Trentain, who has two young children, understands the benefits of the service she and Ben have created. "For around the same cost as your weekly grocery bill, chef-prepared meals that can be tailored to your dietary needs – including gluten/dairy-free/vegan – are delivered straight to your door," Tamara said. "Working families are limited with time so are getting smarter about the chores in their life."
"It saves mums taking the kids along to the shopping centre to do the often stressful 'big shop'. Then, on the weekends, you're free to enjoy cooking as a hobby, rather than a chore.", she said.
Ben and Tamara firmly believe everyone should have access to affordable, nutritious food so they can achieve their ideal health and fitness. "We believe quick-fix, fad diets are destructive and unsustainable," Tamara said. "We created FivePointFour so that it's easy to lead a healthy lifestyle.Our purpose is to equalise nutrition globally, so for every meal we sell, we feed a child at school in Africa through the Hunger Project.", she added.
THE PRIZE
To win 1-of-2 meal plans, which is 20 meals for 1 week, worth $149.90.
Multiple meal plans available to match the lifestyle: http://www.fivepointfour.com.au/our-meals.php
- Women's WEIGHT LOSS – 1200 CALORIES (potential to break into 4 a day)
- Women's Maintenance/Training (suitable for pregnant or breastfeeding mums) – 1400 CALORIES
FivePointFour currently delivers to the following area, so the winner will only be chosen from the covered area
Sydney & surrounding suburbs
1. Melbourne & surrounding suburbs
2. Brisbane, Sunshine Coast, Gold Coast to Tweed Heads
3. Ipswich & Toowoomba
4. Rockhampton & Gladstone
5. Mackay including the surrounding areas of Moranbah, Proserpine, Cannonvale, Airlie Beach, Sarina and Nebo
6. Townsville including Ingham
Win 1-of-2 Healthy Meal Plans from Five.Four, each worth $149
5.4 RELEVANT LINKS:
Facebook: https://www.facebook.com/FivePointFour
Instagram: http://instagram.com/fivepointfour
YouTube:https://www.youtube.com/channel/UC4L8KvZctaHsm1BlGt6iJAw?feature=watch